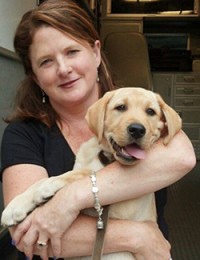 Dr. Newman received her Doctor of Veterinary Medicine degree from Iowa State University in 1998. Following veterinary school, she completed a Surgical and Emergency Internship at California Animal Hospital, in West Los Angeles.
Dr. Newman's special interests include trauma, emergency surgery and pain management. She completed her certification from the International Veterinary Academy of Pain Management and is currently the only Certified Veterinary Pain Practitioner (CVPP) in Illinois. Dr. Newman also writes a veterinary column for the Police K-9 magazine, which is well known among K-9 handlers. She speaks regularly to local police and other K-9 groups.
Dr. Newman also has a special interest in police and working K-9s. She has worked with them for many years and understands the needs of the K-9, the handler, and police departments. Her passion of working with police dogs and their handlers, led to starting the practice. Prior to opening Partners and Paws Veterinary Services in June, 2013, Dr. Newman spent her career in Specialty Referral hospitals, as an Intern, then as an Emergency and Critical Care clinician, followed by Medical Director of two specialty hospitals. Dr. Newman also enjoys working with sporting groups, rescue groups and 'civilian' dogs and cats.
Drs. Newman and Brandes share their home with two cats, as well as with two rescue dogs. They also have a teenage daughter- who spends much time at the hospital and in the ambulance!
Additionally, Drs. Newman and Brandes are involved in multiple veterinary organizations including the American Animal Hospital Association, the American Veterinary Medical Association, and the International Veterinary Academy of Pain Management. Dr. Newman has served on the board of directors for the Chicago Veterinary Medical Association since 2005 and is the past president of the CVMA.